We buy houses in Metro Atlanta. In the process of renovating the houses that we purchase, we often have to modify the landscaping. Modifications sometimes include trimming trees and even cutting them down.
We try to preserve trees whenever possible. They add value to the home and the neighborhood. Trees are desirable to homebuyers. And removing trees is costly. There are numerous reasons to leave trees undisturbed. However, trees can sometimes be a danger to the house (and future occupants), or they may be in the way of the new construction, making removal necessary.
To make the required changes to a house we purchased in the City of Atlanta, we had to remove a 30″ diameter tree. In the City of Atlanta, permits are required to remove trees over a certain size. And trees must be replaced or offset with a recompense fee based on the number and size of the tree or trees that are removed. (You can read the City of Atlanta tree ordinance here.)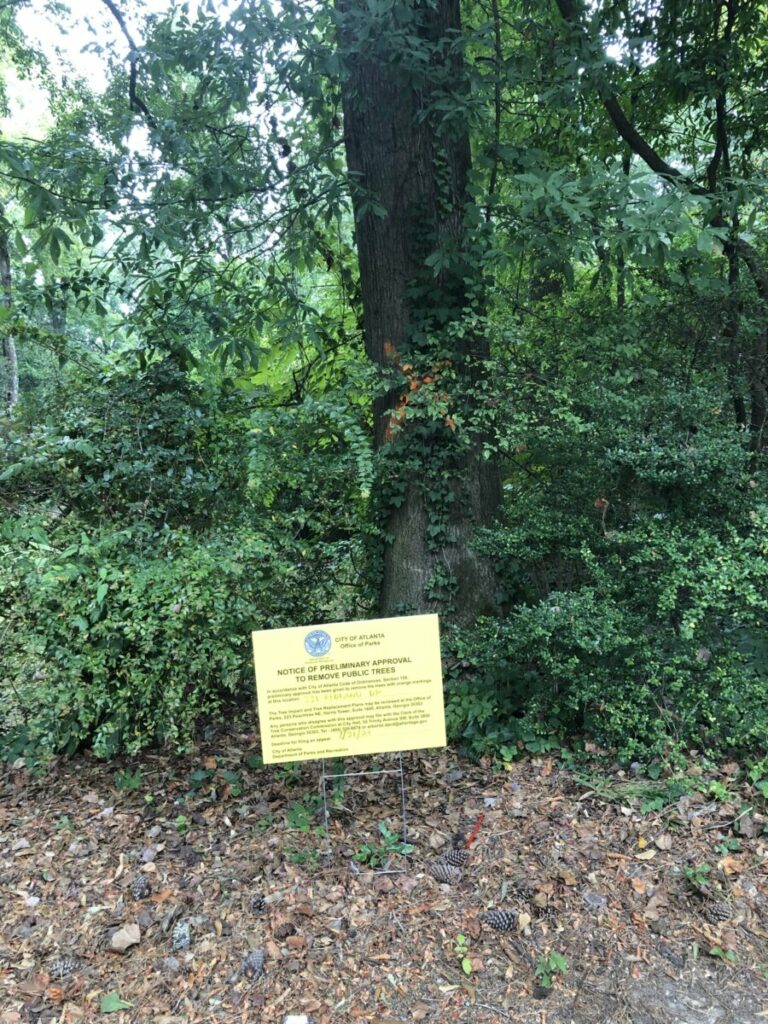 In our case, we also had the problem that the tree was close to the street, in the public right-of-way. We were required to replant trees equal to the size (in total diameter) of the tree we had to remove. Planting a single 30″ tree back on our property was not practical, if not impossible. We had the option of planting multiple trees that would equal the diameter of the removed tree, but then we ran into a problem of not having enough space to plant multiple trees.
Since we didn't have room on our property, we were able to plant trees in another location. The Bobby Jones Golf Course is a public course and we made arrangements with them to plant ten 3″ trees in a location they designated for us.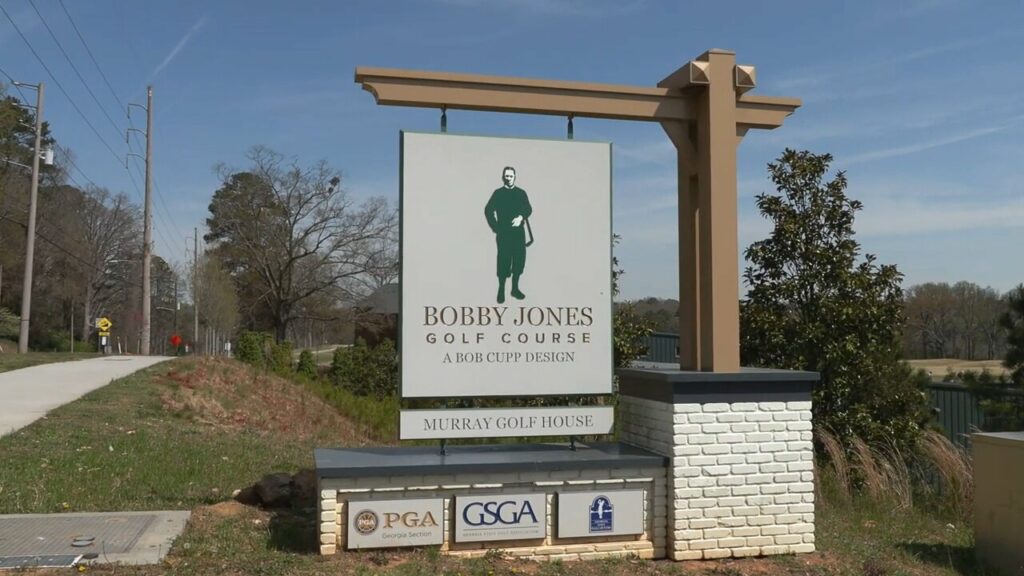 Now, you might not think a three inch tree would be a big deal to plant, but the size of the root ball and the height of the tree made it necessary to use a small backhoe to lift the tree into and out of the truck used to transport the trees. Multiply that by 10, and you have a multi-thousand dollar job that required three men from R12 Projects to complete.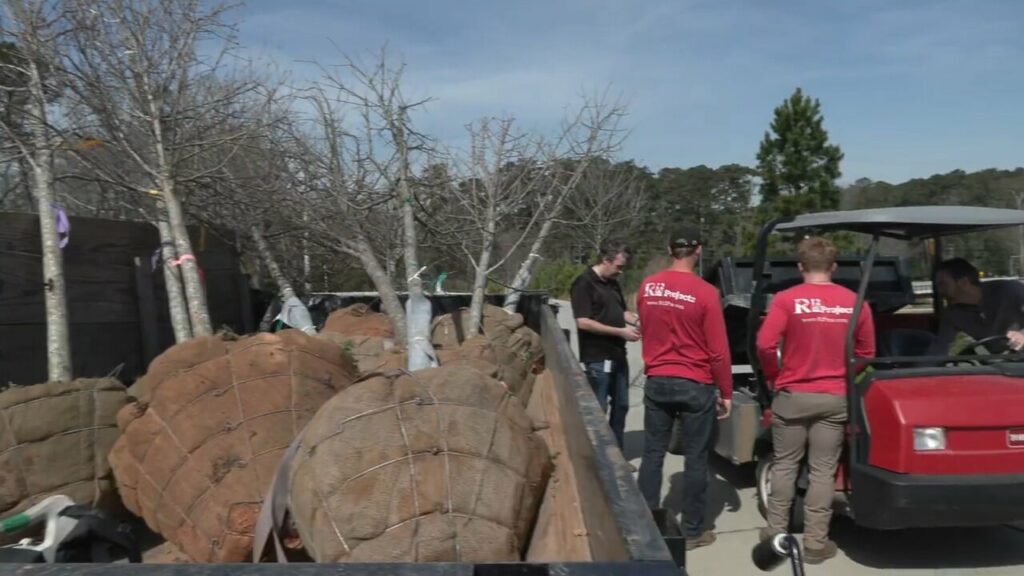 Once they loaded two trees into the cart, the R12 Projects crew transported the trees to the spot designated for planting. With 10 trees to plant, they needed to make 5 trips from the truck to the planting location.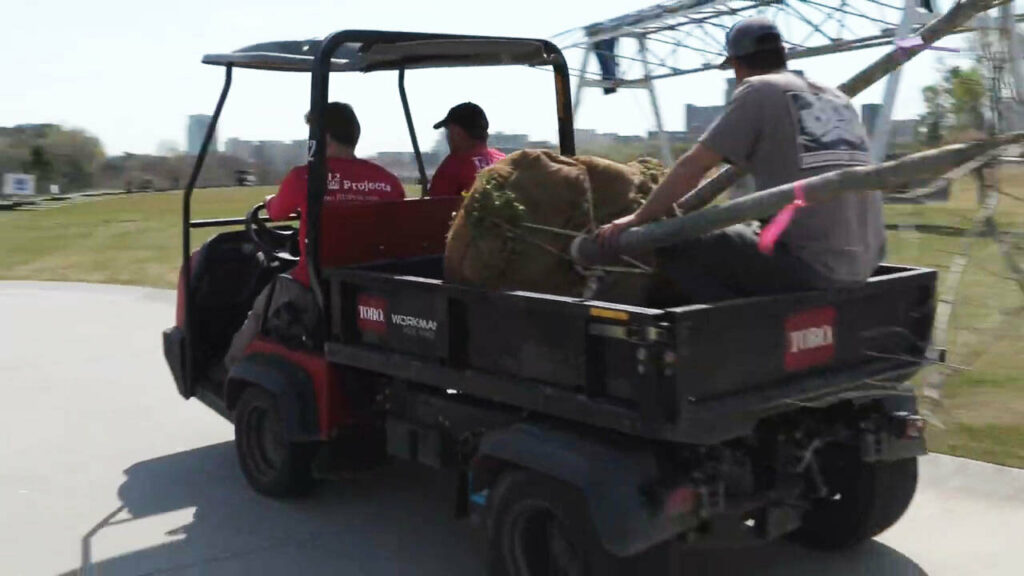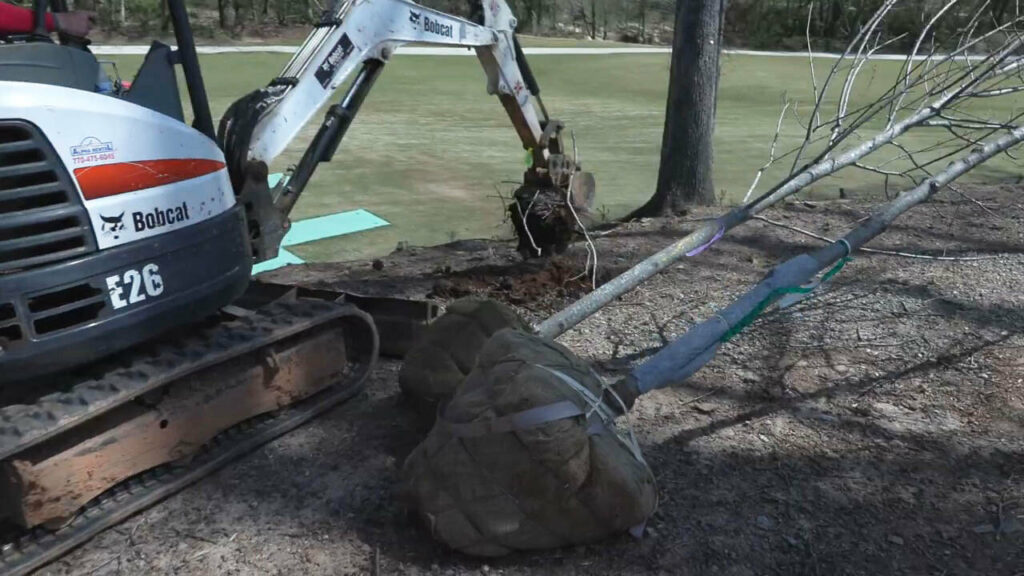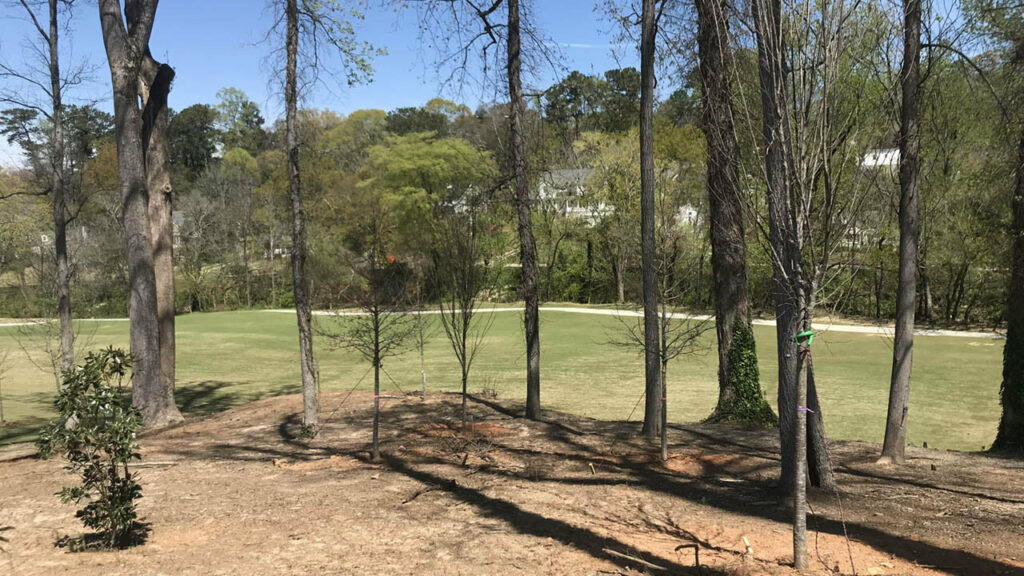 We Buy Houses in Atlanta
If you have a house that you don't want, or that you need to sell fast, Resideum can help. We buy houses in ANY condition. We take on tough challenges like tree issues. We buy houses that have been burned, hit by tornados, damaged by water, and more. If you have a house that is old or outdated, and you just don't think you can sell it, we would love to help.
You can sell your house to us and close in as little as 7 days. You get paid and can walk away from the burden of dealing with the house. We'll even deal with any junk you don't want to remove from the house. Complete this form or call us at 678-710-6130.
Video Transcript
Greg Kurzner
We are on our way in Bobby Jones Golf Course to go see our trees getting planted. There's one of our people right there, the big backoe deal whatever that is. We got Brent driving. He's a fabulous driver, especially on Tuesday. Hi, this is Greg.
Brent Bagley
This is Brent.
Greg
And we're with Resideum. And today we are out at Bobby Jones Golf Course in Buckhead, Atlanta, and we are planting some trees on the golf course. We have this honor by having to remove a very large tree on one of our construction projects that was in the right of way. So the way city of Atlanta works is that if we take trees out, we have to put them back. So we are going to be putting ten trees into this golf course, which is a fantastic public golf course. It's been renovated and remodeled. It's beautiful and it's a great day for it. So stay tuned. We're going to show you how it's done.
Greg
So we have our landscaping crew, R12, out here today, and they are going to be doing the install of these trees that we're putting on the golf course. And these are fantastic guys. We use them on all of our projects, do a great job in landscaping…And they're off.
Brent
All right, guys. Now we're over here on site where the trees are going to be planted. We've got the yellow flags where the golf course marked saying where we could plant the trees. R12 is currently digging the holes. I think he's on his third one, so he's got seven more to go. We'd love to stick around and see the trees planted in the ground, but got another property under contract that we got to get back and start working on. So we are going to sign off here and we will possibly hopefully get some pictures and we'll post those up of what it looks like.
Greg
And we actually hope that you shank a ball into our tree woods. We would love that. So come on out to Bobby Jones and make sure you shank a ball into these trees.
Brent
All right.
Greg
I'm Greg.
Brent
I'm Brent.
Greg
We're with Resideum.
Complete this form to get a free, no-obligation offer on your house or call us at 678-710-6130