Inherited property can be a blessing and a curse.
In this article (and video), we'll discuss the problems with inherited property (and we're talking primarily about houses) and how to solve them, including how to sell what may seem like an unsellable house.
First, let's talk about the problems with inherited property.
1. Very Emotional Situation
You normally only inherit something after another person dies. So, an inherited property is often accompanied by grief and sadness over a parent or some other person's passing. A property may have sentimental value, and having to visit the property or deal with matters related to it can be difficult emotionally.
If you grew up in a house, just going back there after losing a parent may be extremely traumatizing. Seeing all of the furniture and photos and reminders of lost loved-ones can make dealing with an inherited house difficult.
Another problem with inherited property is that payments related to that property don't stop just because the previous owner died. Mortgage payments are still due. Insurance still needs to be paid. And of course property taxes are always going to be due. The government always gets their money, right? And regular maintenance, like lawn mowing, still has to be done.
If there is a mortgage on a house that you inherit, payments on that mortgage must continue to be paid, otherwise the lender will eventually foreclose. If the estate does not have funds to continue making those payments, you may choose to make the payments yourself.
This financial burden is often offset by the sale of the house in some future time, but what if the house is not in good condition and selling it quickly is unlikely? A house needing heavy renovation work, updating and cleaning might take many months or even a couple of years just to prepare it to sell. Are you able to make the mortgage, insurance, tax and maintenance payments on the property until it is sold?
A house in decent condition in a high-demand area will probably not take long to sell, but selling a house is always a waiting game to see if a buyer can be found and found at the right price. Make plans and a budget so you know how you will cover the expenses, and have an idea of when you can get the house sold.
3. The Property May Be a Long Way From Where You Live
If you inherited a property in a different city or state from where you live now, this can create difficulty when dealing with and managing the property. Everything you do related to that property becomes more difficult and time-consuming. And potentially expensive. You may have to pay another person or company to manage the property in your absence. Dealing with tax matters may require in-person visits to tax offices. Maintenance on a property, which always seem to come at two in the morning on Christmas day, becomes extremely burdensome and stressful. If you have to travel a long distance to deal with the property, this can steal many days from your life.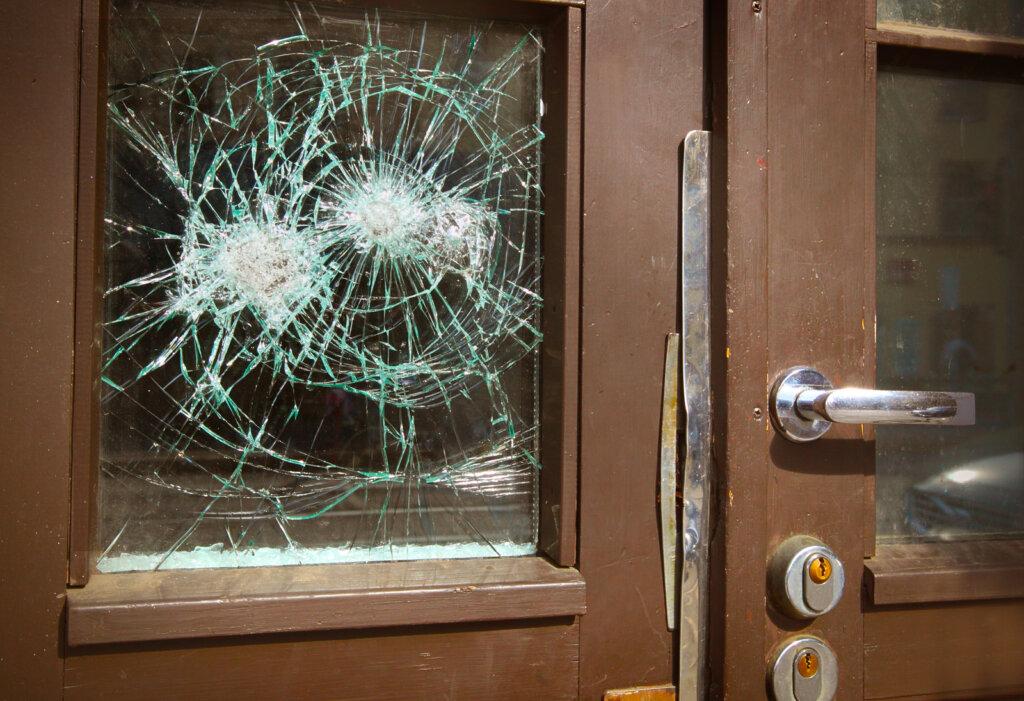 Inherited properties are often vacant properties. And vacant properties invite snooping and mischief and often vandalism. And here's a real gotcha: If properties are vacant, property insurance may not cover damage due to vandalism. So, while you may be paying for insurance, damage caused by break-ins and vandalism will be your financial responsibility.
You can get insurance to cover a vacant property but it will cost you around 50% to 60% more than a regular policy. Unoccupied home insurance is expensive for a good reason: Bad things tend to happen when a house is vacant. Vandalism, theft and other outside forces can damage a house. Water leaks, burst pipes and other internal problems may go unnoticed and uncorrected for many weeks if no one is home to correct them.
5. Older Homes Need Repairs and Upgrades
Here's another problem with inherited property: Many times, these properties are older because the previous owner was older or elderly. For example, if you inherited a house from a parent, they may have been living in their house for several decades.
Older houses tend to have deferred maintenance or maintenance and repairs that were put off for a long period of time. Especially in the case of an elderly person, they may have been physically unable to adequately maintain the property. So, this type of property often needs immediate repairs on top of the fact that the house is getting older and probably needs major renovations to bring it up to current standards.
6. House Full of Stuff/Junk
Inherited houses many times include a house full of furniture, personal items and good old-fashioned junk. Disposing of this personal property is a challenge separate from any structural or functional issues with the house. Will you have to take care of this personally, selling, removing or disposing of items?
Garage or yard sales are one way to deal with the contents of a house. But garage sales can be exhausting and people tend to nickel and dime you to death when they buy things. Estate sales run by professionals may bring in more money for the items, with much less effort on your part, but you'll need a good company that can do this, and you will pay them a hefty portion of the proceeds. Some companies may have a minimum fee that you must hit, otherwise you won't receive anything from the sale. After a garage or estate sale, you will likely still have unsold items to sell, keep or discard.
If you prefer to not have an in-person sale, there are a number of ways to sell items online, including Facebook Marketplace, Craigslist, ebay and more. But you will primarily be selling one item at a time on these marketplaces, and you'll have to spend a lot of your time listing items and dealing with numerous buyers to get everything sold.
Another option to consider is donating the items to a reputable organization in your area. You won't make any money selling the items, but you can get rid of things quickly, the donations help a good cause, and you may get a tax deduction in the process.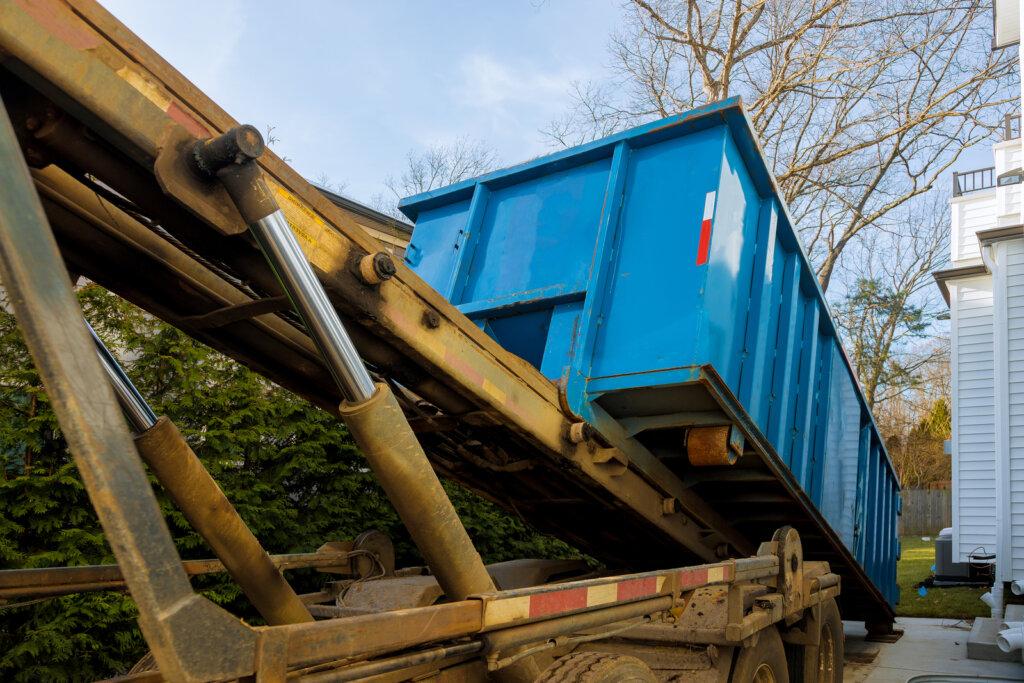 You'll still probably have to dispose of the junk that no one wants, so prepare yourself for the clean up process. You may be able to dispose of the items through the regular trash pickup service at the house, but you may also have to haul trash to a local dump, which will cost you the disposal fees and any hauling or truck rental fees you incur. The simplest and most economical solution may be to have a dumpster dropped on the driveway, then you fill it with anything you want, and the dumpster company hauls it away for you. Dumpsters are not very expensive. Prices depend on the size, the length of use and any weight overages. Expect to pay $200 to $500 for one-time use of a dumpster.
What To Do With An Inherited Property
You have options when it comes to an inherited property.
Of course, you can keep it, move into it, use it as a second home, etc. A home–especially a childhood home–may hold wonderful memories, and you may be too emotionally attached to it and the memories of your loved-ones who lived there to sell the house. Just be prepared for the cost of maintaining it, paying for insurance, taxes and any outstanding mortgage payments. You may be able to take over the existing mortgage, but that may not be possible. You may be required to get a new loan in your name, and on your credit.
There are two traditional ways of selling a property:
For Sale by Owner. This requires you to post a sign or other advertisements, conduct open houses and showings yourself, field offers and do all your negotiating with buyers. If your property is in another city, the for-sale-by-owner option is a difficult one.
Sell With a Real Estate Agent. Listing the house with an agent lets you step back from the selling process while your agent is responsible to post for-sale signs, list the house online, show the house, receive offers and present them to you, and help you with negotiations and deal with other tasks. Agents can even attend closings when necessary. This is a hand-off approach for you as the seller, but you will pay the agent a commission (usually 6%) for the help they provide.
These two house-selling options are great for selling houses that are in good condition and essentially move-in ready. Finding buyers for quality homes is not difficult in most cases and most areas.
The big house-selling challenge comes when a house is not in good condition or when it needs major updating. As previously discussed, inherited properties unfortunately tend to be in sub-standard condition because they are likely older, outdated and in need of repairs.
Repairing and remodeling a house involves several things:
Money
Contractors
Time
Work
Depending on just how outdated or damaged the inherited house is, be prepared to spend thousands, even tens of thousands of dollars, to make the house ready to sell. You can always do the work yourself if you have the expertise and time. If the house is in another city or state, this compounds the problem.
You may want to pay a home inspector to look at the house and give you an unbiased rundown of all the problems in the house. What an inspector will probably not be able to advise you about is what the house may be missing–in other words, what features of the house don't live up to today's standards. For that you may need a real estate agent or an architect or interior designer to advise you.
If a house is outdated, you may have to go so far as to add bathrooms or bedrooms or both, to make the house desirable to today's buyer. The kitchen may need a complete overhaul. You may need to take out walls and add other missing features. Projects of this magnitude may take several months, and require architects to design the changes. Building permits will be necessary, and getting those can delay the project further.
Finding a quality contractor to handle the repairs or remodeling is extremely important if you want the work done right, on time and on budget. Be sure to get multiple bids and examine them carefully to be sure they are going to take care of the house properly.
After looking at the often gargantuan task of repairing and remodeling an older home, you may decide it's not worth the time, effort and expense. But how can you sell what might be considered an "unsellable house"?
An alternative to the two traditional methods of selling your house is to find a company that will buy your house outright, in any condition. There are professional homebuyers who buy older, outdated and even destroyed houses.
Resideum is a professional homebuyer. We buy houses in Atlanta in any condition, and that's the big difference between the first two ways of selling your house, and us. If you try to sell a house that has problems, for example, fire damage, you probably will not be able to find a traditional buyer. A family looking for a home is not going to consider a house that has fire damage. They want a house they can move into now. They want a house that is clean and safe and secure.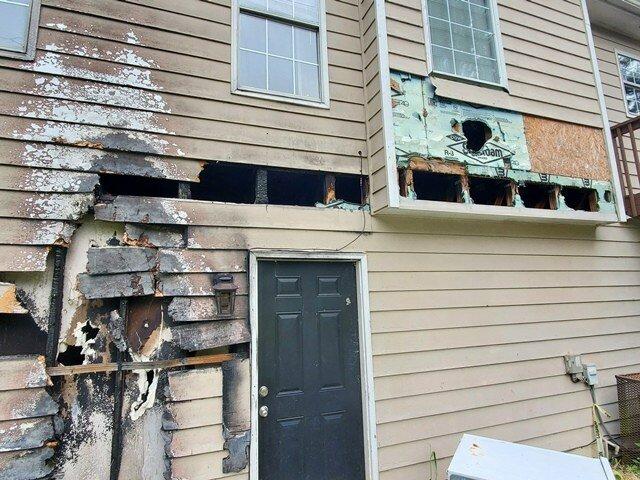 Resideum buys houses in ANY condition, even fire-damaged houses like this one
Similar "house problems" as we call them, like outdated floor plans, mold or asbestos or water damage and similar challenges are very difficult to sell. Home buyers don't typically want to take on these problems. Again, buyers want a move-in ready house. They want you as the seller to fix everything first.
What you need instead, is a buyer that can bridge the gap between what your inherited house is today and what your house could be after the investment of lots of time and money.
Resideum has the expertise and the money to repair and renovate a house in literally any condition so that it becomes sellable.
So, as a home owner, you have to decide what the solutions are to your "house problem." Time is money, the clock is ticking, mortgage payments continue to be due. Insurance payments continue to be due. Taxes continue to be due. Maintenance and repairs never stop. And weather and other factors continue to chip away at a property's integrity and value.
Do you have the money to bring a house up to date so it is attractive to the market? Can you make the necessary repairs so the house shows well to prospective buyers?
If you don't have the time, money, or expertise to do all this yourself, we would love to talk with you about your property if it is located in the Atlanta area.
We pay cash for the houses we buy and we can close in as little as 7 days.
You don't need a real estate agent. You don't pay a sales commission. You don't need to show the house to a bunch of buyers.
You don't even have to clean the house out. If you want, we can deal with all of the junk in the house.
Once we confirm the details, we will make you a cash offer, usually in 24 hours.
If you prefer to speak with us on the phone, call us at (678) 710-6130 and we will be happy to answer your questions and discuss your particular situation.
Greg Kurzner:
Hi, guys, this is Greg Kurzner.
Brent Bagley:
And I'm Brent Bagley.
Greg:
And we're with Resideum. Today, we're going to talk about inherited properties. So if you've ever inherited a property or perhaps you know someone who has it is a pretty complicated situation. And we are here today to go through some of the challenges that you face, maybe as an administrator for an estate or inheriting a property from a loved one so that you're kind of clear on what happens, the whole process and you can avoid some of the gotchas that happen.
Greg:
So let's talk about some of the main things that happen.
Brent:
All right.
Greg:
I've got Brent and Brent going to answer the questions today, and he's he's ready to rare and go. So what's the first and the biggest challenge you think people who are inheriting properties face?
Brent:
I mean, the biggest challenge is that you're inheriting a property from more than likely a loved one. Someone has passed away. And the difficulties there is going into the house, going through the personal items, just getting everything ready. Even if you're going to be putting it on the market, it's going to be hard. And some people find that difficult to do.
Greg:
Yeah, I think because essentially we're talking about a real estate transaction, right?
Brent:
Yeah.
Greg:
Your working your way through an estate with a home and you're at the same time doing it while your mourning. You're in grief. So I get that that's, you know, real estate's an emotional transaction to begin with. But then when you're dealing with a loved one's home and with the loss of a loved one, it really is complicated. So that's something to bear in mind that you really do have to try to create some separation between the grief and the business transaction that the real estate is involved with.
Greg:
So in addition to that, what other kinds of things do you typically find are challenges with the inheritance process, if you will?
Brent:
Another challenge you'll face when inheriting a property is the fact that the mortgage payment doesn't stop, the taxes are still owed, utilities are still owed. You still gotta mow the lawn and take care of those just regular expenses that you wouldn't think about.
Greg:
And that's interesting because I think a lot of people think, OK, when the homeowner passes, you know, that the real estate all of a sudden sort of sits in some kind of void. But again, you're right, mortgage payments are due. You know, taxes are due and all that stuff continues. So in a case like that, where a house has a mortgage on it, who who pays for that? Is that something that you'd have to pay for or what?
Brent:
So, I mean, basically, it falls on whoever inherits the property. Now, if let's say there was money left in the inheritance along with the property, then, yeah, you've got that money to help pay for those bills.
Greg:
Ok.
Brent:
But if you didn't inherit any money, you're going to have to pay that out of pocket.
Greg
Right. And that's a challenge for a lot of people. I mean, if some people are struggling to make their own mortgage payments, pay their own bills, are they going to be in a financial position to pay somebody else's bills while that house is, whatever it's working its way through probate, right?
Brent:
Yeah.
Greg:
So that's a big challenge. And especially when people aren't planning on selling the home to recoup the proceeds right away. They've got, they've gotta budget that or see how they're going to be able to handle it financially.
Brent:
Yes.
Greg:
Gotcha. OK, so we talked about the emotional challenges that inheriting creates and we've also discussed the expense part. So, what about location?
Brent:
Well, challenge there is going to be if you live out of state or another city, you're going to have added expenses traveling to the property to check in on it. Or if you have to hire somebody to go and look in on it. If you're in another state, you know, you're not gonna want to drive every couple of weeks to check on the property.
Greg:
So definitely being out of state's a challenge. Now, what about if the property's vacant?
Brent:
All right. So with a vacant property, you're going to have, you know, snooping and there is possibility of vandalism, someone breaking into the house.
Greg:
Yeah.
Brent:
So you want to have someone checking in on it and then you've got to make sure you've got the right insurance policy. So insurance policies will probably cover you for the first couple of months. But once the property's vacant, you'll have to have a certain policy called a vacant property insurance policy.
Greg:
So my typical homeowner's insurance won't cover a vacant property?
Brent:
No.
Greg:
Wow, that's good to know.
Brent:
And it's a lot more expensive than a typical policy as well.
Greg:
OK, gotcha. So a lot of times when loved ones pass they're elderly, right?
Brent:
Uh huh.
Greg:
And I would think that many of the times too that the homes that they live in are older too.
Brent:
Yes.
Greg:
So what are some of the challenges with older homes?
Brent:
So challenge you're going to face with older homes are the homes are going to need repairs. You know, you need to fix the gutters or, you know, there can be some leaky pipes.
Greg:
Right.
Brent:
Another thing that you'll face is the house. You know, if you're looking to sell the house for top dollar, it's going to be outdated and you're going to have to remodel the home to get it up to market standards.
Greg:
Oh, wow! So like new kitchen, new appliances. Wow!
Brent:
Yeah.
Greg:
OK, so that could get very, very expensive.
Brent:
Yeah, that can get expensive and put even more money out of your pocketbook.
Greg:
Right. That you may not have.
Brent:
That you may not have.
Greg:
OK, so I have another question. So, what do you do with all the stuff that's in the house?
Brent:
I mean, you've got some options. There's estate sales, yard sales, selling it on eBay.
Greg:
And an added problem would be if you're not close by, how do you kind of coordinate estate sales or selling stuff on Facebook Marketplace? Where I guess that's pretty difficult as well.
Brent:
Yeah, and there's companies that you can hire to do that.
Greg:
OK, but still, that sounds like money, right?
Brent:
Yeah.
Greg:
So inheriting a property a lot of people think is maybe a great financial windfall. You know, a nice gift from a loved one. But it sounds like it can also be very stressful and very costly…
Brent:
Yes.
Greg:
…if the goal is to ultimately sell the home.
Brent:
Yes.
Greg:
So what are the options? Let's say that they don't want to keep it in the family and they want to maybe sell it so that they can take the proceeds and pay for college or something else for the kids. What would they do?
Brent:
So there's several options out there for you. If the house is in good condition, you could list it with an agent or you can do for sale by owner. For sale by owner I personally would do that option if I wanted to save on the commission and didn't want to have to pay an agent to do it.
Greg:
But you also have to spend a lot of time and energy and putting signs up and taking phone calls and stuff like that, right?
Brent:
Yeah, you have to do it yourself.
Greg:
So Brent. But what if the house is not in good condition?
Brent:
Well, if the house isn't in good condition, the best option is going to be to sell it to a professional home buyer like Resideum.
Greg:
And what is a benefit that Resideum or another professional home buyer can offer that, say, a real estate agent or for sale by owner really can't?
Brent:
You'll get a cash offer? No inspections. We'll buy the house as-is, no commissions and no closing costs.
Greg:
How about fast, though? Is it fast?
Brent:
Yes, it is fast. We can close in as little as seven days.
Greg:
Great. So if you've inherited a property that needs work and you either can't or won't take the time, money and energy to fix the home up, to get it to sell quickly retail, then there is an option and a group like Resideum is out there to be able to buy the home for cash?
Brent:
Yes.
Greg:
That's fantastic. So if your inherited house needs a bunch of work and you don't have the time, the expertise or the money to do it yourself, Resideum buys houses in any condition in metro Atlanta. And we can get you a fast, all-cash and no-obligation offer in twenty four hours. Click on the link below today and we'll get you your offer tomorrow.
Get More Info On Options To Sell Your Home…
Selling your house these days can be confusing and challenging. Connect with us or give us your info below and we'll help guide you through your options.
What Do You Have To Lose? Get Started Now…
We buy houses in ANY CONDITION in Atlanta. Sell my house fast in Atlanta! No commissions or fees and no obligation whatsoever. Start below by giving us a bit of information about your property or call
(678) 710-6130
…