Free Guide: 5 Ways to Stop or Avoid Foreclosure In Today's Market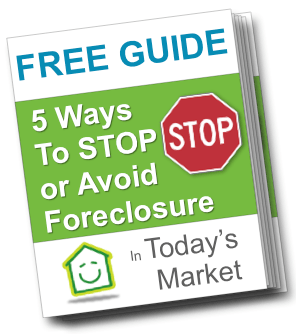 Learn how to avoid foreclosure, stop the foreclosure process, and your 5 main foreclosure avoidance options with this free guide. 
Here's what you'll know after your read this easy to understand six page guide:
How you can potentially save your credit rating during your foreclosure
Five ways banks may work with you to reduce payments or even eliminate payments (if you qualify)
Why a "Notice of Default" can reduce your possible solutions (and what to do tomorrow if your lender has already filed a Notice of Default against you)
Your 5 options to put a stop to a foreclosure that has already happened
Foreclosure is a painful process and no one wants to go through it.
But, when you're equipped with this specialized information, understand your options, and can make a sound plan of action… you can dramatically reduce the potential long-term damage this foreclosure predicament could cause you.
You can instantly download the Free Foreclosure Guide by entering your information to the right. We'll email you the guide so you can go read it thoroughly, when you are ready.
You'll also receive other tips and help from our Foreclosure Avoidance team to help you make a wise decision about how to resolve your foreclosure problem.
Homeowners are downloading this guide. Download yours FREE!
Download Your FREE

Stop Foreclosure Guide

Below

Just put in your name and email, click "Download Foreclosure Guide Now!" and we'll email you the Free Guide right away.